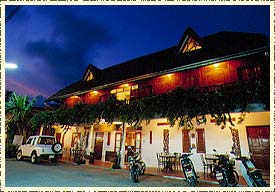 An exterior view of The Lodge at night.
Nestled in the heart of Bophut's Fisherman's Village is one of the most quaint, comfortable, and reasonably priced beachfront resorts on Samui. 'The Lodge' has long been a well-kept secret among regular travellers to Samui. It's always been considered the best, most convenient, and least stressful beachfront accommodation available.
Its creator David Hill originally conceived 'The Lodge' after he visited the Ancient City of Ban Boran in Bangkok and saw a reproduction of an old style up country Thai/Chinese 'shophouse'. He decided that this style would be perfect for his property on the beach in Bophut, and it was!
'The Lodge' is a simple, elegant affair. Limited to ten luxury rooms, 'The Lodge' fits perfectly into the enchanting Fisherman's Village surroundings. With it's trademark hardwood floors and ceilings, fine art and sea views. Each room has a warm, comfortable feel.
'The Lodge' is an easy walk to all the shops and great restaurants found in the village..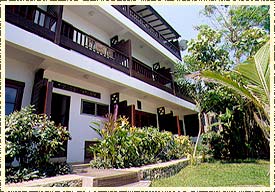 A view of The Lodge from the beachfront.
The Fisherman's Village has a three-day street festival, held in late August, with all but pedestrian traffic removed from the main village road. Dozens of live performances, from Folk Music, to opulent Classical Thai dancers, to hot Rock & Blues Bands, keep the mellow crowds entertained. Restaurants from all across the island open foodstalls with all kinds of wildly tasty Thai, Asian, Seafood, and European fare available. It's a happy, colourful scene. 'The Lodge' guests tell us they love it.